Blush Pink Christmas – Secrets To A Beautiful Holiday
Blush Pink Christmas that is toned down and softly muted. Soft colors play the biggest part in my design aesthetic, so in decorating for the holidays I don't stray very far. Today I'm talking about my living room, and it's been ever so slightly transformed with a few simple touches from the way that it looked just a few weeks ago!
I'm sharing with the Deck the Halls Christmas Home Tour, hosted by Decor Gold Designs and Randi Garrett Design and am excited for all of today's inspiration from my friends as well as the rest of the week to come! I welcome readers from fellow Miami blogger I Don't Know How She Does It who is before me on this week's tour.
I started designing my Christmas living room around the White Shag Rug and knew that I'd be receiving a
Flo
cked
Tree
, so my thinking was to dream of and put together a WHITE CHRISTMAS.
By using loads of white and the greenery, it's flexible enough to add in the grey tones of the ottoman and faux fur pillow on the left, and then by changing a few things in pale blush PINK. The fresh pink look is shown on the right.
The mantel refresh consisted of a quick candle swap by removing the gold glitter candles and replacing them with
Frosted Votives
and pinecones that I painted pink and glittered several years back. One of my favorite 5 minute refresh tips is to keep lots of inexpensive candles and candle holders around in every color that appeals to you and depending upon the season and your occasion simply change them out. I shop things on sale both in retail on-line and locally I'll stop into an interesting looking yard sale or thrift shop from time to time as well. Most of what I have has been sourced over time this way and an upscale look is possible without breaking the budget.
The Gift Wrap is all from Target and I head over to my local store as soon as the holiday gift wrap is put on the shelves. You can find the Sugar Paper on-line as well and my favorite for this season is the Blush Grosgrain Ribbon with gold metallic edge. I mean….BLUSH PINK, perfect not only for a blush pink Christmas…but for baby showers and weddings, Valentines Day!
Pink pillows are perfect to add that bit of color and since they are nothing permanent (like wall or furniture color) it's a nice way to sneak it in when there are men in the household as well. Did you notice on of my fur boys up on the marble window seat? That's Bartley the Cavalier King Charles Spaniel and despite the white my home stays pretty clean because white is bleachable and it's actually easy to see what needs to be wiped up.
The glimmer of lights, the glitz of an old French chandelier…I love the glow that the living room has and it's the first room that you see stage left (which is actually to to the right:-) when you walk in. First home impressions are everything and not only does our home make us feel happy and good, it's a place to gather and make others feel that way too.
In a white based room it's important to create texture and lots of it. We have wood, textiles, faux fur, shiny metallics and nature based elements in this room.
If you enjoyed my post today, please visit some of my other holiday posts that are linked in the side bar of the blog. Next on the tour is Jen Rizzo Design, so please take a look at her lovely living room and then continue on the tour below.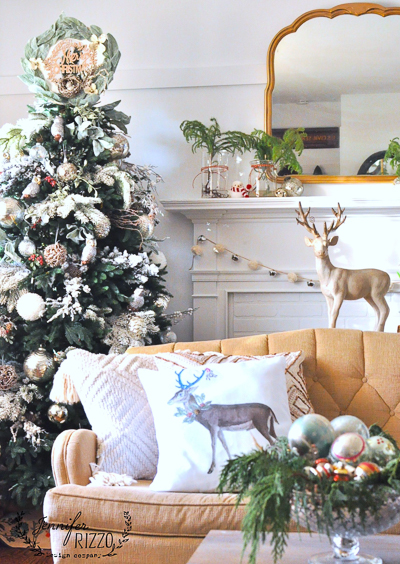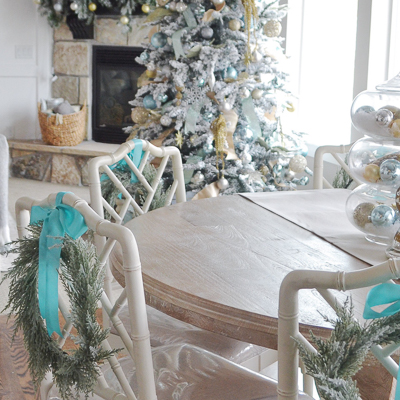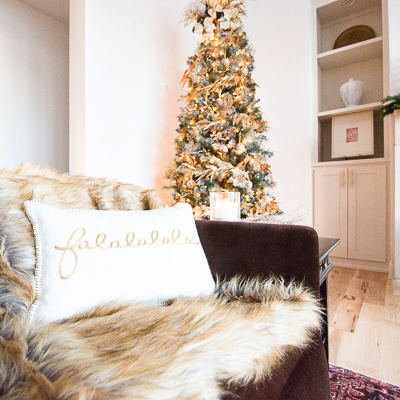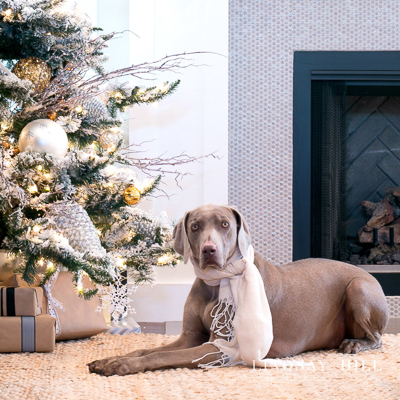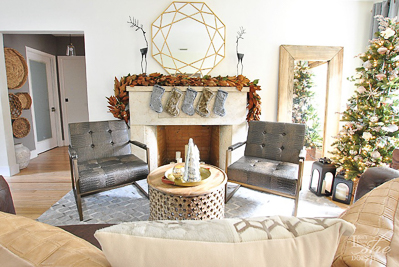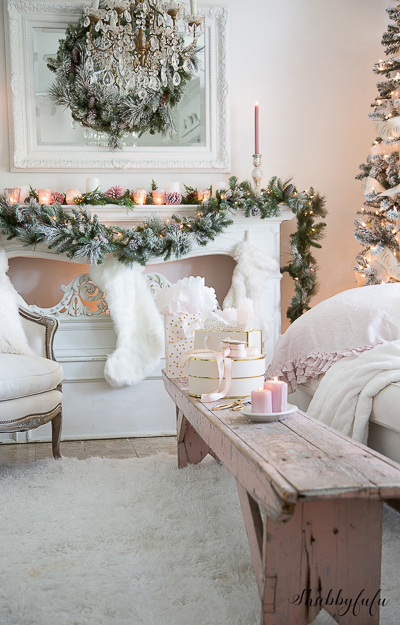 MONDAY – ENTRY/PORCH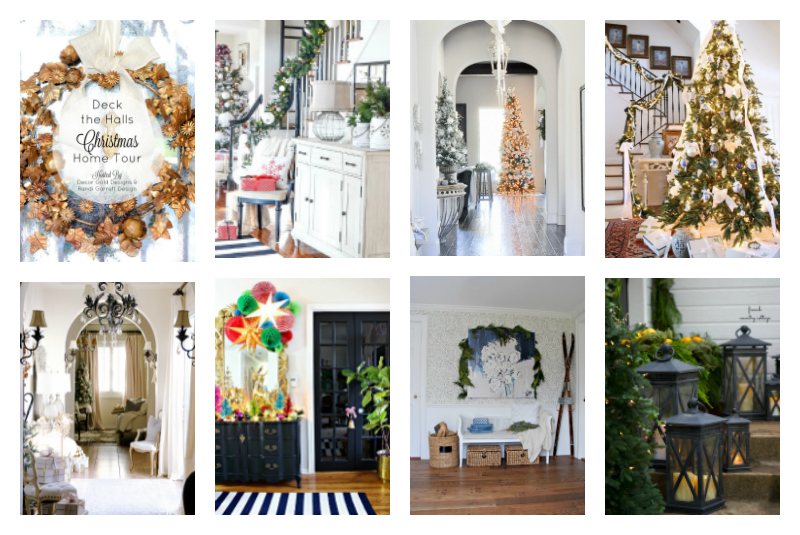 COMING
WEDNESDAY – KITCHEN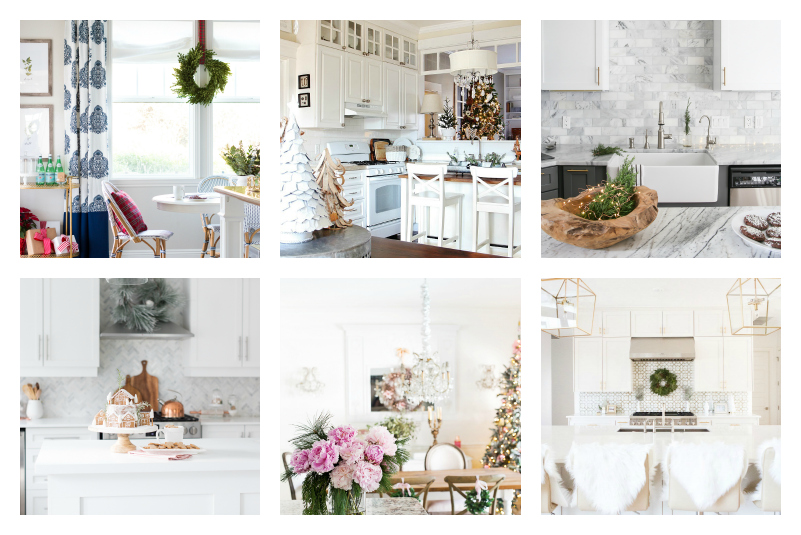 THURSDAY – DINING ROOM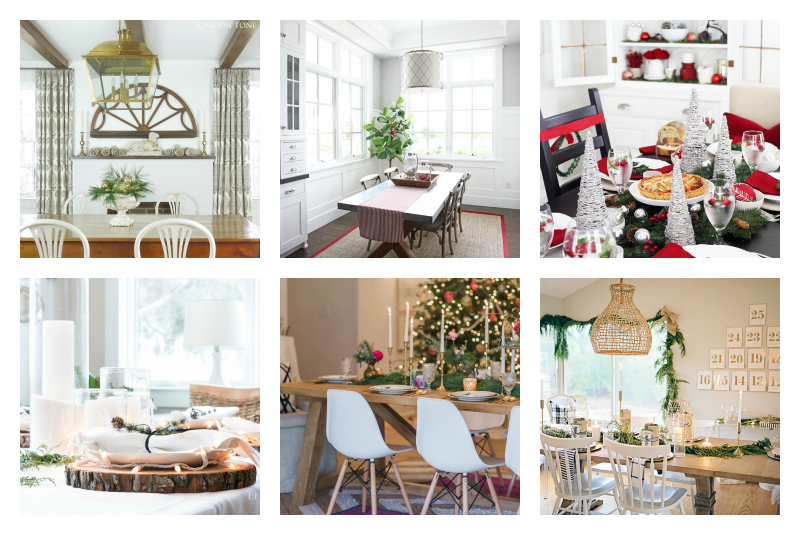 FRIDAY – BEDROOM