Struggling with styling your bookshelves? Learn how to style bookshelves with a curated list of real-life examples of bookshelves. Indeed this will inspire you and give you tons of ideas to tackle your bookcases!
How to make a bookshelf look pretty – Real-life inspiration:
If your thumbs are getting tired from too much twiddling and you're itching to give your home a fresh look, maybe restyling your bookshelves is all your home needs to feel new again.
Now it's time to take out all your favorite knick-knacks because, in this post, we're diving into different ways to style bookshelves!
We've gathered some stunning real-life examples of how people style their bookshelves authentically without leaving out trends or elegance.
Whether you like the trendy grandmillennial style, coastal decoration, or you're more of a minimalist in your approach to decor; this curated list will have a bookshelf styling idea that will spark up your decor inspiration. But first…some favorite tips!
3 FAVORITE BOOKSHELF STYLING TIPS!
Take off the dust jackets and divide your books by color. This gives you a well coordinated look, especially when you amass the books in your signature accent shade.
Did you know that a fabulous place to shop for books just for color is the dollar store? YES! Again, look underneath the book dust jacket and see what it looks like. You can't beat the price and can quickly put a collection together.
We know that it's not for everyone, but take some old travel guide books and make them look fashionable! Here's how in this DIY post – HOW TO MAKE NEW BOOKS LOOK OLD.
Get ready to work on your home renovation and elevate your bookshelves to a whole new level! Not into styling your bookshelves with books? No worries.
You can still use these lovely images for inspiration! Don't forget to check out my post about how to decorate bookshelves without books in a coastal style, where I go a bit deeper into sans-book styling hacks!
Brooklyn Brownstone – Victorian Family Room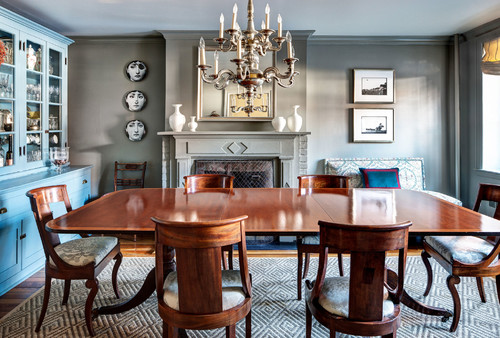 If you're an avid reader and a décor-fanatic, this Brooklyn Brownstone may make your look like the ultimate literal dream. Soft shades of blue all around the room make this place a serene space perfect for reading, and the books are styled in an aesthetic yet functional way.
For instance, there are almost no décor items taking up space. Just books throughout but strategically placed within the cabinet.
As a result, the bookshelves look polished and uncluttered (plus – dust free!).
Beach Style Family Room in New York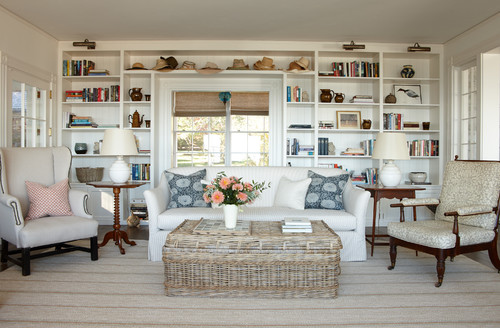 This bookcase is sure to inspire you, no matter your style. The layout is the focal point, making the entire room work flawlessly by keeping space between each item. The books are positioned horizontally and vertically, which adds a more interesting effect.
Reading Nook with IKEA Shelves
If you're craving a cozy and airy ready nook, you'll love this x from x. Using budget-friendly shelves from Ikea, the owner of this space created a simple yet elegant reading corner that's lovely to the eye.
Oakstone Homes
Knowing how to style a bookcase without books can be difficult. However, if you take items that share a similar color story, mix up textures and heights, you can transform your shelves into the perfect spot to display your favorite knick-knacks. If you need a visual guide, just look at this marvelous example!
Lafayette New Home – Farmhouse Family Room
From the charming farmhouse-style library ladder to the airy vibe, this San Francisco family room has nailed the bookshelves styling to a T!
The homeowners decided to create a perfect balance of color and space by letting their shelves uncluttered and perfectly organized, as a consequence every item stands out.
Connecticut Farmhouse
If minimalist decor is not up to your alley, this grandmillennial inspired room will win your heart. The bookshelf styling in this traditional farmhouse living room it's cozy, authentic, and functional.
The soft-green colored bookcase frames the entire room and, without a doubt, steals the whole show.
Styling Bookshelves Without Using Books – StoneGable
Yvonne from StoneGable kept the same neutral and organic tones that make up her entire home's decor in her bookshelves styling. The result is fabulous!

She added texture with baskets, along with metallic accents, hard wire details, and greenery to add pops of color. These bookshelves are truly divine!

If you want to know more about what formula Yvonne uses to decorate her shelves, read her post about it right here.