How to layout a Living Room
If you're planning on doing a living room redesign and need some inspiration, you've come to the right place. I've gathered living room layouts that are incredibly practical, easy to follow, and adaptable to lots of different settings, no matter what size your space may be. There is also a free tip sheet and plans for layouts that you can print out…scroll to the bottom of this post!
Maybe you've just moved to a new home or you're ready to give your living room a fresh new look, but where do you start?
The layout! It can be a tricky thing to get just right. But, a good layout holds the key to completely transforming your space and in this article, we'll dive deep showing you real examples. Plus some great tips on how to choose!
We've collected 11 living room layouts that are incredibly practical, easy to follow, and adaptable to lots of different settings, no matter what size your space may be.
When it comes to setting up a living room, there are many things to consider — from the size and shape of the room to the function it needs to serve to the type of elements you want to include.
It is easy to get your living room layout just right if you use these tips to guide you.
Living Room Layout Tips and Tricks:
Focus on what function your living room will serve.
Before you start, it's a good idea to make a list of the functions your living room will serve. Do you use it primarily for watching TV with family or entertaining friends? How much time do you spend on your current living room? Ask yourself these questions before choosing the layout, furniture, or even the decorating elements!
A good rule of thumb is to start your layout is by measuring your room, including any doorways or obstructions. This will help you visualize how the space will work with different furniture arrangements and traffic patterns.
Consider traffic flow when arranging furniture.
You want people to feel comfortable in your living room, so make sure there's enough space for them to move around freely from one end of the room to another without having to walk across or around furniture. The rule of thumb for spacing between pieces is about 18 inches.
Try placing furniture at different angles!
Put the sofa at an angle to create more space. A sofa placed at an angle can help open up a narrow or square-shaped room, creating more depth and dimension.
Use a rug to define the area.
You can place one large area rug in your space as the anchor and layer another smaller rug on top to add depth and texture to the space. Always make sure that at least the front legs of all of your furniture pieces are sitting on the rug to ground the space visually.
Take advantage of all nooks and crannies
If you're decorating a small layout, incorporate storage solutions into your living room. Using ottomans with hidden storage is great for keeping remotes, magazines, and other items out of sight yet within reach. Try to opt for sofas on the smaller side with slender structures, to avoid taking up too much space.
Layout Ideas for an Open Concept Floor Plan:
Without any walls to help you define where furniture should go, open-concept floor plans can be a bit complicated to navigate when it comes to arranging the ideal living room.
Using a modern twist on a traditional setup is ideal when you're working with an open-concept space where the living room sits right across the kitchen or dining area.
You can achieve this look by choosing an L-shaped sectional and adding lightweight slipper chairs, so you can move them around effortlessly depending on the situation.
Best Layout for Open Concept Living Rooms
How? Place your L-shaped sofa with its back facing the kitchen or dining area. Add slipper chairs to the sides and place an ottoman coffee table right in the middle.
For an extra space-saving trick, you could get a coffee table that doubles as an extra seating option, as we can see in our stunning example below.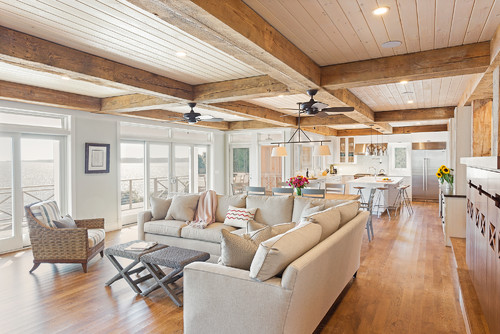 Placing a narrow console table at the back of the sofa will help divide each area even more. Plus, it adds extra room for storage. Something that is always welcomed, especially in an open concept floor plan!
To anchor this space and make it feel intimate and inviting, add a large rug making sure to place at least the front legs of the sofa and chairs. This will help the feeling of furniture just floating around.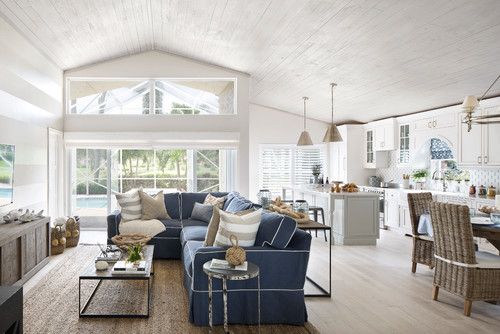 We can see another open-concept layout option in this lovely home. Two comfy chairs were set up on each side of the fireplace, slightly angled towards each other while facing the kitchen area, in front of a sectional sofa arranged against the window.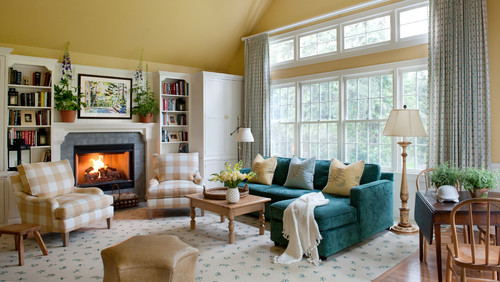 A furniture arrangement like this helps create zones within an open-concept space, helping the conversation flow from every angle in the room.
In this layout, symmetry is key. Two identical slipper chairs positioned against the dining area provide a visual division to separate both areas.
The large sectional sits next to the chairs, looking straight to the tv. This setup is similar to the other layouts we've talked about slightly modified. It may be exactly what your room needs!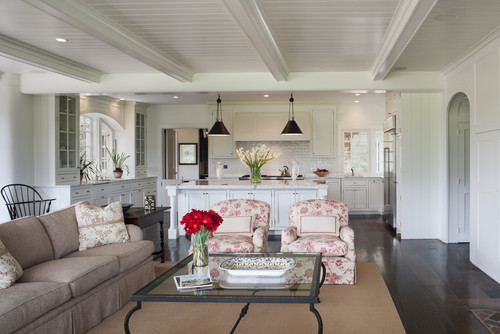 Living Room Layouts With Fireplaces As The Focal Point.
If your living room has a fireplace and you want it to serve primarily for entertaining family and friends, you'll need to make the fireplace the focal point and arrange the furniture around it.
Place your sofa facing the fireplace and pair it with two comfy chairs, one to each side of the firewall. Curve them slightly towards each other, to create a circle effect that will promote conversation.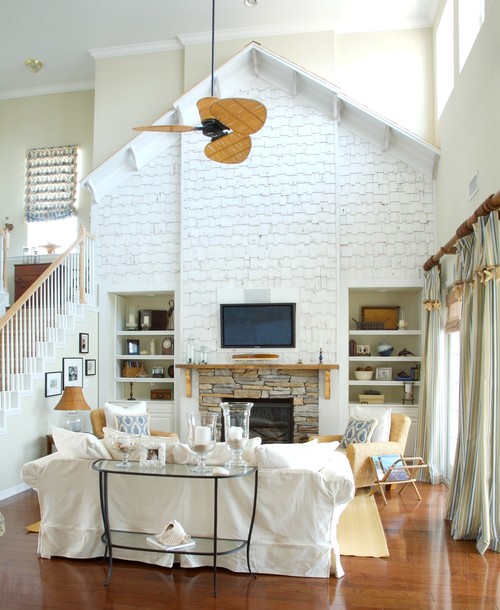 If you like a more traditional approach that feels more formal yet inviting, this layout might be perfect.
Using the fireplace as the guide, place a small sofa to one side and opposite to it, two deep tufted sats with a large coffee table in the center.
The homeowners of the example shown below added low built-in bookshelves, fluffy throw pillows, and a floor lamp. Adding to the cohesiveness, a soft gentle blue tone is waved throughout most decor elements.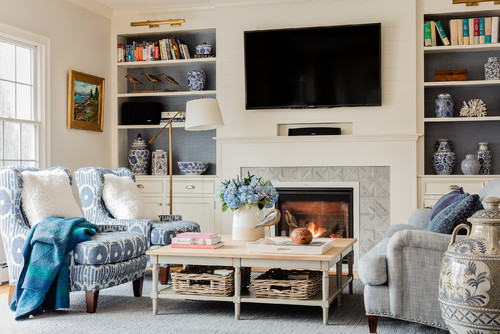 The result? An inviting atmosphere that works and looks divine.
In our example below, we can see that the large wall-mounted tv works as the focal point.
As the homeowners of this home, you can pair a large sectional with one chair. Placing it perpendicularly to the sectional, right next to the fireplace wall adds an updated effect.
With the TV mounted above the fireplace, this arrangement is ideal for conversation as well as movie nights!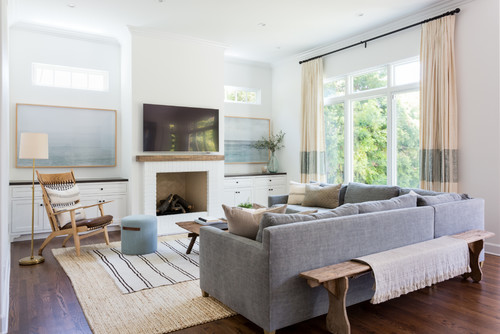 Living Room Layouts for Small Spaces
Small and narrow spaces can pose more challenges when decorating.
It might not be the best idea to enforce traditional layouts in these rooms. To take advantage of such layouts, consider embracing and adapting to them!
As can be seen in this example, it's all about arranging correctly. A standard layout with two chairs and a couch in front of a fireplace has been adapted to fit this narrow room.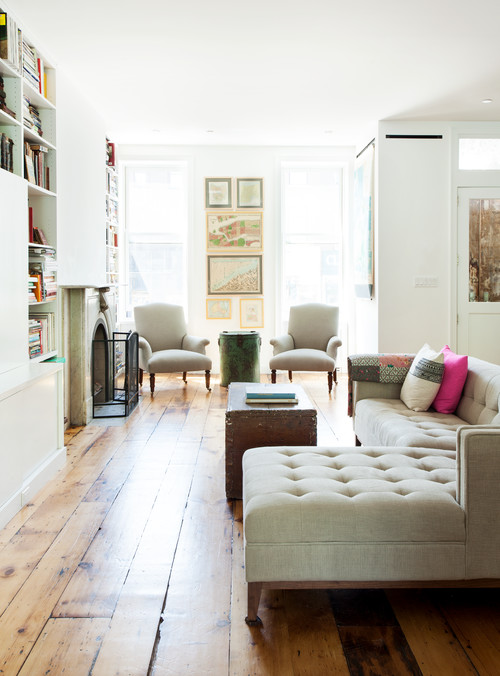 The chairs have been flushed back to the side, almost touching the wall in this corridor-like living room. This gives better access to the main couch while also adding more seating options, making it feel cohesive and inviting. Instead of going with classic low tables, these homeowners opted for a trunk-like coffee table that open up to reveal storage space inside.
Another option is to keep a traditional layout but go for compact and lightweight furniture pieces, like in the example below.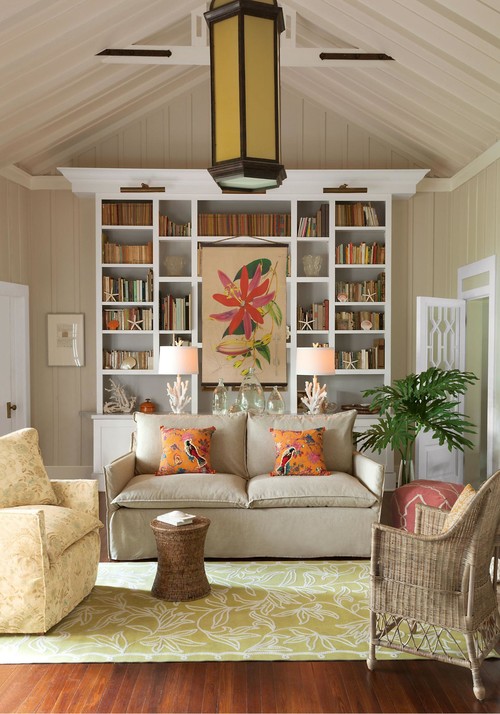 An airy, light feeling is created in this living room with wicker furniture pieces paired with heavier upholstered ones.
Living Room Layout Ideas – Break It Up!
Don't like bulky sofas and couches? Then, forgo them! Try this layout instead.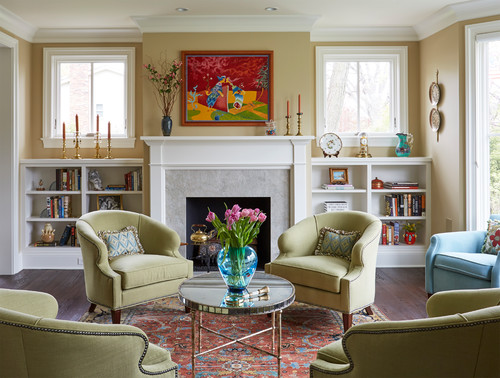 By placing individual armchairs in a semicircle in your living room you can take advantage of your space to the fullest and set up an ideal conversational environment.
Although there are more details that go into designing a living room unique to your style and space, I hope that looking at these different living rooms has inspired you!
To help you out further we've designed two FREE PRINTABLES as shown in the preview below!
So how do you get these in high resolution that are ready for you to print and enjoy? Just fill out the form below. You'll also have instant access to the entire Shabbyfufu Printable Library for Subscribers only. NOTE that by submitting your email, you will be added to the SHABBYFUFU email subscriber list. I hope that you love 🥰 what you see on my blog, but you'll always have the option to unsubscribe at any time.
If you are already a SHABBYFUFU email subscriber, I am so grateful for your support! You can download these printables RIGHT HERE from the Shabbyfufu Members Only Library. Your password is in most of the last week's emails, so look for it there if you've forgotten!
PIN THIS POST BELOW FOR FUTURE REFERENCE!
More Home Decor Reading:
If you want to keep reading on these topics, don't forget to check out my other tips and advice!