If you love the inspiration of a French country inspired home, then you're going to swoon over this beautiful Minneapolis estate!
French country decor is getting more popular than ever before thanks to its timeless aesthetic that blends comfort and modern touches with elegant furnishings and décor.
And in today's home tour, we'll have a look at this fairytale-like residence that combines classic French provincial decor with a tasteful dose of all-American comfort and a little dash of rustic charm.
Definitely my kind of place!
French Country Inspired Home in Minneapolis
During this home tour, you will see many exquisite features that you're sure to love and will also give you ideas for adding some of that French flair to your own home!
ALL Photos by Charlie & Co. Design, Ltd.
St. Paul – French Country Estate:
Immediately after the first glimpse at this dreamy residence, it's easy to spot the French country's inspiration. This remodeled home is located in a picturesque Minneapolis area and boasts jaw-dropping design and interior styling.
It is a beautiful careful blending of old and new.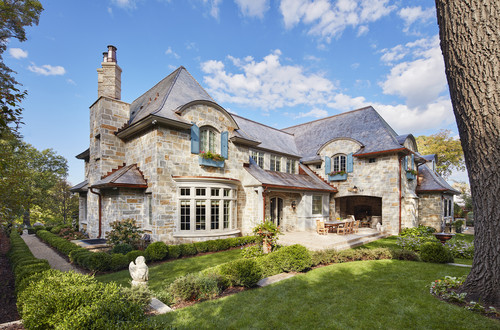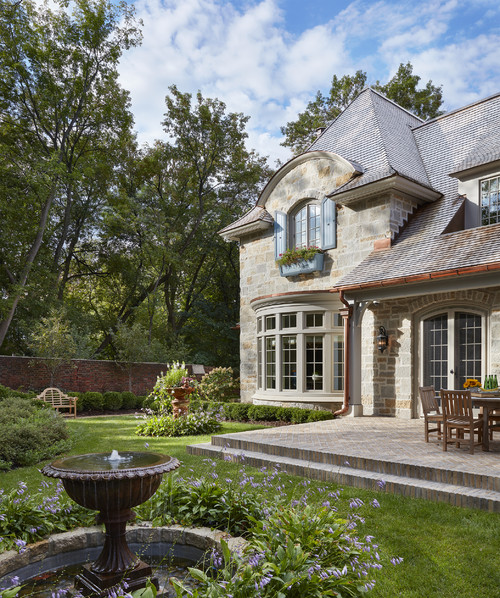 The stone covered walls contrast with the blue shuttered windows, while the antique-inspired outdoor lights and flower boxes add a hint of that Provence charm that we all love so much.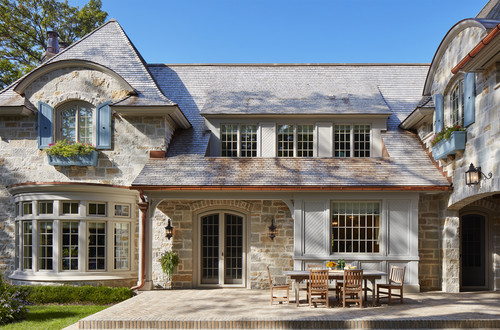 A light blue side door matches the shuttered windows, adding to that timeless Provence charm.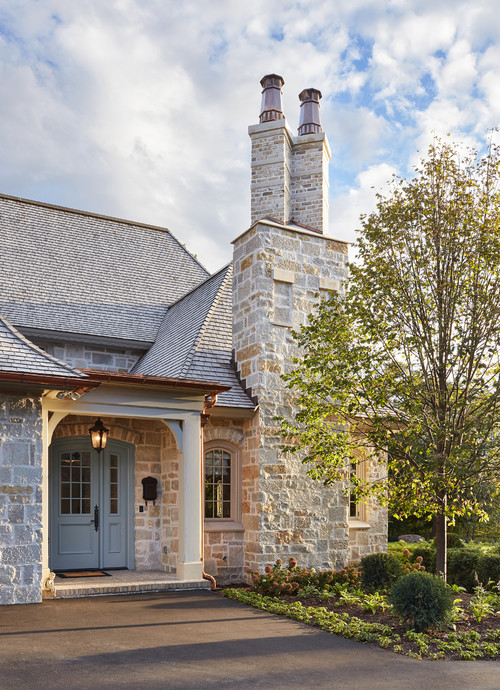 Just steps from the outdoor area is a traditional-styled porch. Right next to the lovely garden, this is a perfect spot to hide away and relax while reading or watching TV.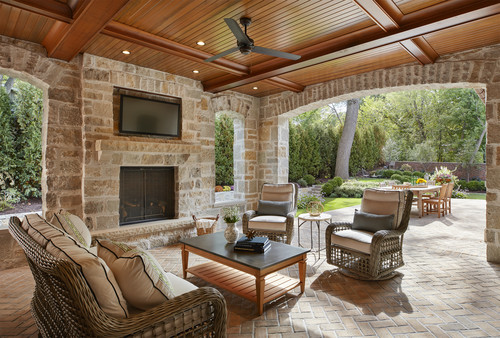 Shop the Post!

A pair of French doors leads into the grand entryway. Here you'll find light neutral floors, a stunning staircase, a blue rug, and some delicate decorations in blue, black, and gold hues.
Thanks to the layout of the home, we can also see peek through an impressive gallery wall in the second floor foyer.
The chandelier adorns both spaces, tying the spaces together.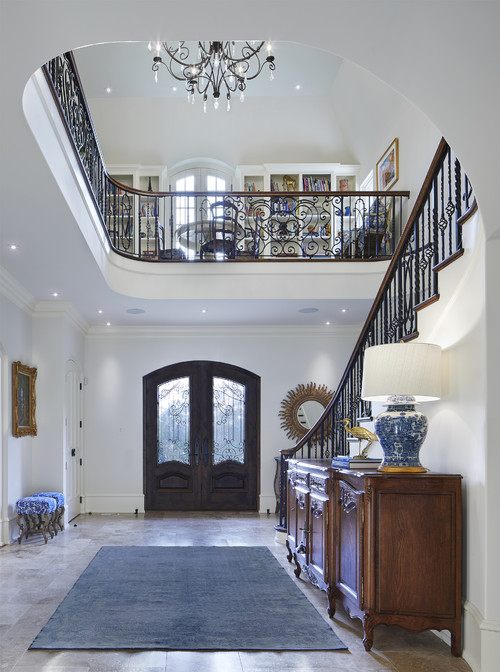 Emphasizing the home's European style, the second-floor hallway features white walls, archways and black foyer pendant lights.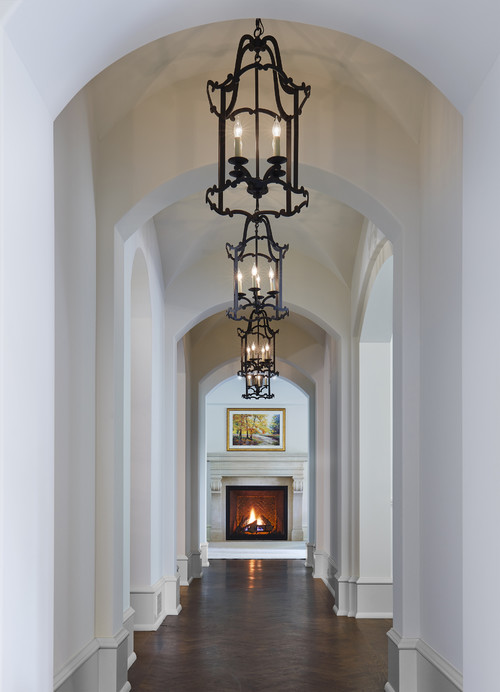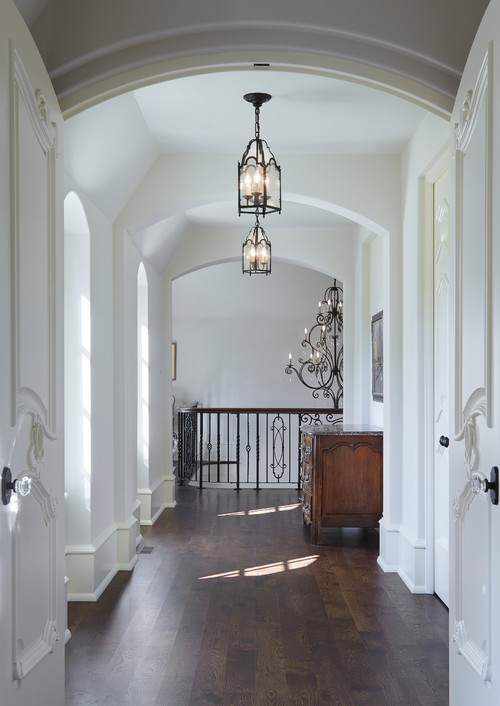 Shop the Post!

Timeless French Country Inspired Living Room:
The elegant and welcoming living room has a distinctly French country character. A creamy rug serves as a neutral backdrop for a mix of patterns and colors.
Two accent lounge chairs in a striped navy blue fabric complement the crisp white sofas. Floral throw pillows, yellow details, and a mix of light and dark wood elements add contrast to the space.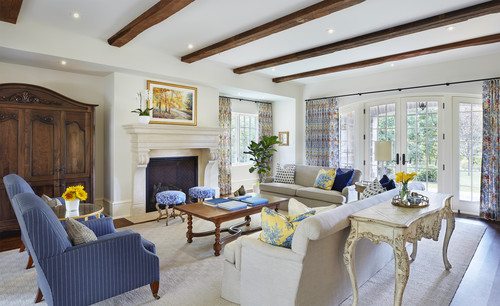 Shop the Post!

Large windows fill the room with natural light. Decorated in warm, light colors, this dining room is a dream come true.
Blue checkered chairs and a matching sitting nook are paired with rustic touches such as woven shades and a farmhouse pendant light.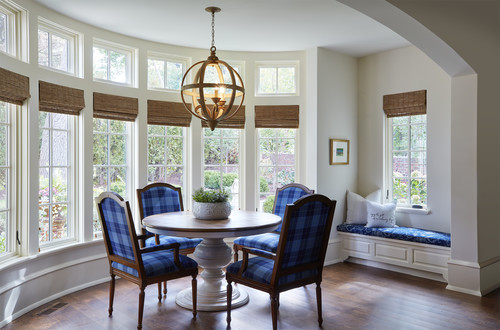 Shop the Post!

Modern French Country Kitchen Ideas:
In this French cottage-inspired kitchen, each element works harmoniously, making it the perfect place for family and friends.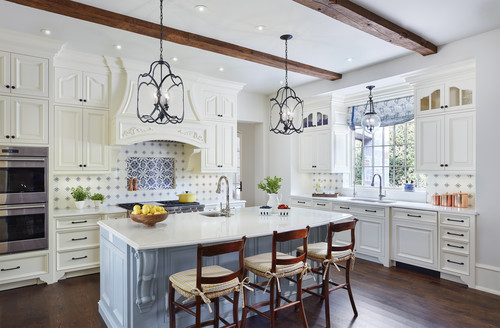 White and blue patterned tiles add that fresh and timeless flair while an eye-catching powder-blue island stands out from the traditional white cabinetry.
The black pendant lights, hardware details and bistro chairs break up the white hues, adding contrast to this airy space.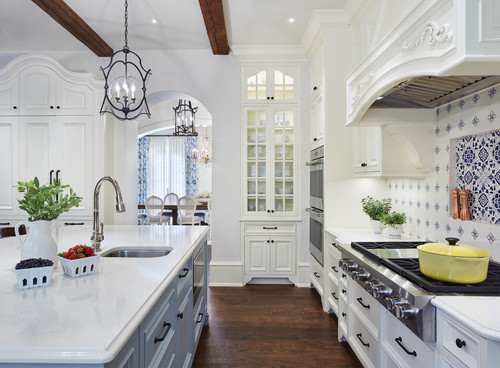 Shop the Post!

Featuring white brasserie oval chairs, a classic dark wood long table, and blue floral carpet and curtains, the setting screams French elegance.
An antique chandelier, framed artwork, and floral arrangement add a touch of old-world glam to the room.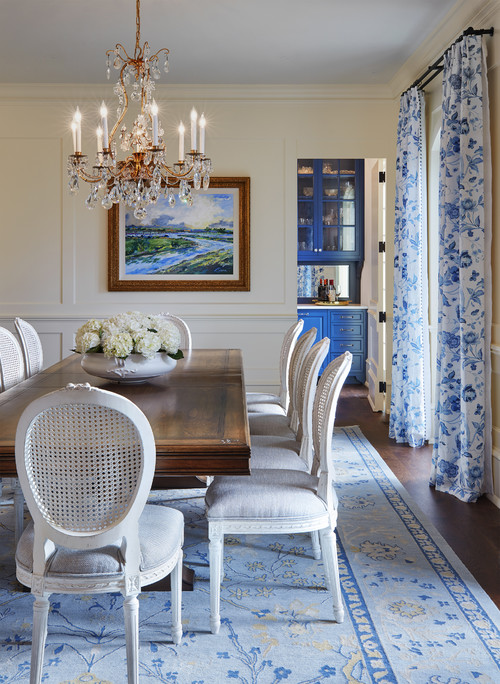 The same blue color found throughout the home covers the top and bottom cabinets in the wet room.
Metallic accents, like the chandelier, mirror, and high-gloss countertops, help to reflect light, creating a luminous space.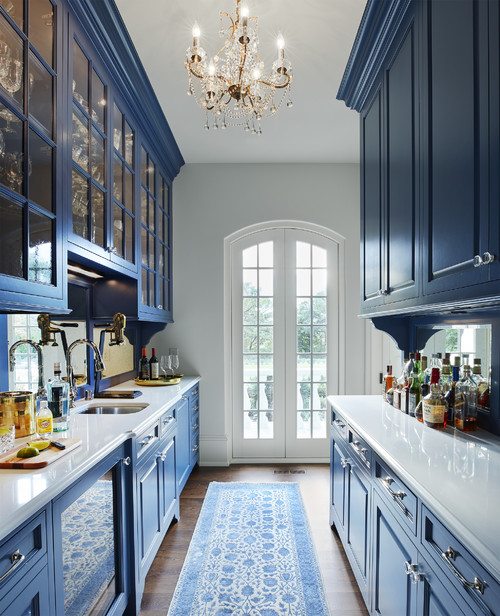 Shop the Post!

With a color palette almost only of white and creamy tones, this bathroom exudes a subtle opulence.
This room features a variety of textures and finishes, such as the tufted chair and glossy mirror in the vanity nook. It feels luxurious and feminine while also being serene.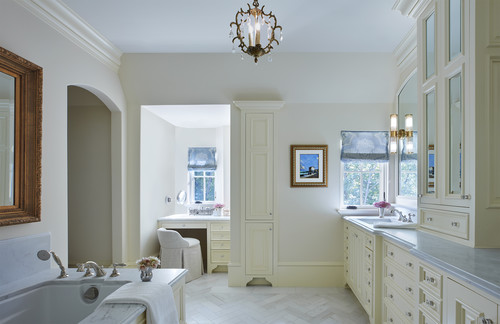 Shop the Post!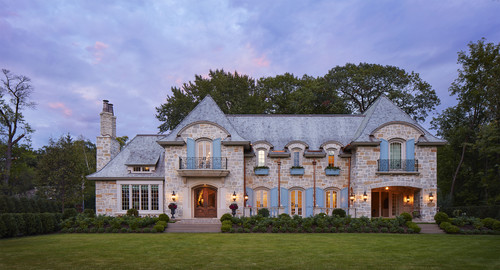 Check out more pictures of this gorgeous French country home on Houzz!
If you want more French-inspired home decor ideas, don't forget to read my post about the new trend that's taking Instagram by storm: Cottagecore! You can read the post HERE.
Shop The Post!